Fileworked crown
---
Fileworked damascus steel crown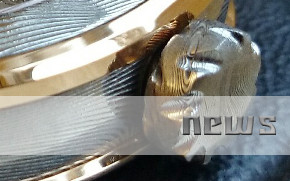 Fileworking details to create patterns and additional highlights is a technique that is common among the best blade makers. The patterns are very personal and every master knifemaker has their own way of doing it. The first GoS watches made earlu 2008. This month we decided it was time to introduce this knifemaking feature into the GoS watches.
So, we developed a pattern for a new crown that will be first featured in a upcoming new bi-color model, Nordic Seasons - Gold.
The photos below illustrate the work process to achieve the pattern until the crown is ready for etching in acid. The etching process reveals the damascus steel pattern and the crown is then refinishedby polishing the fileworked sections and satinizing the bigger surfaces. The new crown has a superb grip and winding feel.
---