Glenn Strömberg visit GoS workshop
---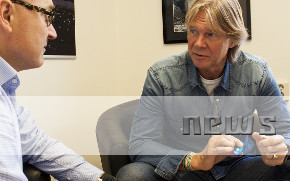 GoS brand ambassador Glenn Strömberg spent an afternoon in the GoS workshop in Linköping. He enjoyed seeing the work involved in the manufacturing of GoS watches and spent a lot of time with the x12-loupe checking the damascus steel bridge finishing.
We also took the opportunity to the status of his Nordic Seasons - Autumn. He had put through the paces in his travelling as a sports commentator, e.g. to 2014 FIFA World Cup in Brazil, but all work that was needed was a strap replacement.
Strömberg is a Swedish football legend (soccer to you in the US) and has had an impressive career both as a top player and a much respected commentator and ambassador for the sport. He is also a watch aficionado with a large watch collection that covers a wide range of styles and brands. The words Passion, Quality and Credibility are his guiding lights in everything he commits to and we're glad to acknowledge that he found all those properties in GoS.
Strömberg finished his club football career at Atalanta (Bergamo, Italy), where he stayed from 1984 until 1992, and made 219 appearances. He is often acclaimed as the best foreign player to ever have joined an Italian team, much thanks to his stamina and impressive work rate. He still lives in Bergamo where he enjoys the food. Glenn says: "Italian cuisine is my favourite. To me, it's number one."
Since his retirement as a player, Strömberg has become a highly respected commentator on the sport. He has worked as a commentator on Sveriges Television in Sweden, and for Viasat on UEFA Champions League games.
---