Wildflower damascus steel
---
Work in progress - wildflower steel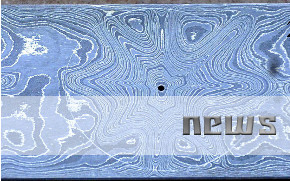 Johan took this photo to document work-in-progress of new GoS wildflower patterned dials and he placed a folding rule next to is just as when he documents his blades. The wildflower pattern is created from one plate of layered damascus steel and this time Johan decided to see what result would be by increasing the number of layers to 192. It takes a master steel maker to first create a steel rod with 192 parallel layers and then apply his "magic" to create the patterns, again without the layers blending. As you can see, the layers are still separate!
One of these dials will make it into the first prototype of a GoS gold/damascus steel bicolor watch.
The process to create the wildflower damascus steel pattern was invented by Johan Gustafsson three years ago when we were searching for the ideal pattern for a watch dial.
---