GoS Featured in Fuera de Serie October issue
---
GoS in Fuera de Serie - El Reloj De Los Vikingos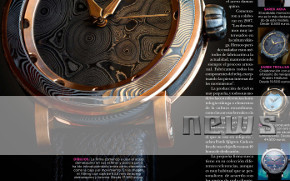 Patrik was interviewed by Andrés Moreno for an article in the October issue of Fuera de Serie, which is the weekend magazine for the Spanish equivalent to Financial Times.
"I fell in love in Corum's Golden Bridge and I understood that this was the job that I wanted for myself.
As chance would have it, one day I met Gustafsson, artisan blacksmith looking for a watchmaker to work with his damascene steel."
They started to collaborate in 2007. "We are both very interested in Viking culture and wanted to carry these methods from manufacturing to present while maintaining the artisanal process.
We manufacture all watch components, except the internal parts of the movements".
---
El Reloj De Los Vikingos