Master League of Independent Horlogerie - Shanghai 2019
---
Patrik Sjögren exhibited together with AHCI members in a prestigious Shanghai event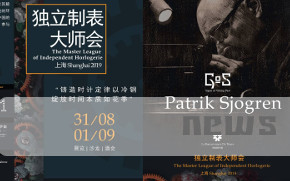 GoS Watches exhibited during "The Master League of Independent Horlogerie - Shanghai 2019", which took place in the K11 Art Mall during August 31 and September 1st 2019.
GoS was present alongside AHCI exhibitors David Candaux, Guo Ming, Raul Pages, Vincent Calabrese, Aaron Beczei and Stefan Kudoke. Maserati sponsored the event and provided transport for both VIP guests and exhibitors.
The venue was the Premium Floor and the Roof Top Garden of the K11 building. It is a unique building that is both an Art gallery with plenty of exhibition space as well as a high-end mall.
Video from Exhibit room of X11
---
GoS exhibited in Shanghai